The economy is not up to scratch and the Treasurer needs to do more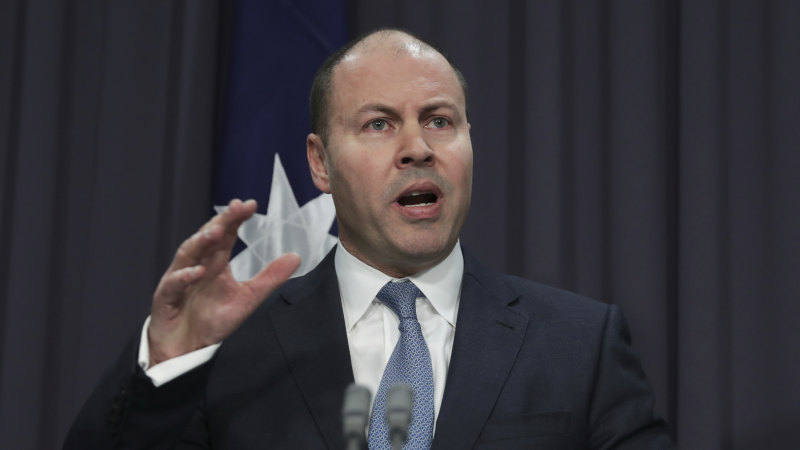 The big downgrade to economic growth forecasts in the latest budget numbers has reopened the debate over whether Treasurer Josh Frydenberg should abandon his pledge to get the budget "back in the black". In the Midyear Economic and Fiscal Update released on Monday, Treasury cut the expected growth rate for this financial year to 2.25 per cent – down from the 2.75 per cent anticipated in April at the time of the federal budget. This is not calamitous by any means but it is subpar. The same could be said for the outlook for wages and employment.
Some mainstream voices including Bill Evans, the chief economist at Westpac bank, some peak business groups and the International Monetary Fund suggest Mr Frydenberg should stop worrying about the budget surplus and bring forward spending to boost the economy. They argue that the budget surplus, now expected to be just $5 billion this year instead of $7 billion, is largely symbolic.
Abandoning the surplus would free up cash for carefully-targeted spending such as bringing forward sensible infrastructure projects or planned tax cuts. These voices also argue that without fiscal stimulus, pressure will grow on the Reserve Bank of Australia to cut the official interest rate below its current record low, even to zero. That would be a risky experiment which could further distort asset prices in particular and the economy in general.
The Herald has sympathy with these arguments and it is certainly not among those who reject using fiscal policy to manage the economic cycle. For instance, the cash splash by the ALP in late 2008 helped Australia avoid recession during the global financial crisis. The question is whether such an approach is necessary now.
From a political point of view, abandoning or even delaying a surplus would be an embarrassment to the Coalition after it spent so long complaining about Labor's "debt and deficit disaster". But the case for trying to post the first budget surplus in a decade is not only about political one-upmanship. It would also send a positive signal to global financial markets and foreign investors.
Fiscal stimulus can have negative consequences. Spending measures can be wasteful and, politically, they can be a substitute for more difficult reforms to boost competitiveness and productivity. These are two areas where Australia lags behind many of its peers around the globe. The biggest argument against stimulus, however, is that, for now, the economy is simply not that bad. This is not the GFC. Australia is still growing and in coming years there is hope for improvement.
Treasury is forecasting that growth will increase in 2020-21 to 2.75 per cent. Consumers, who have been on strike this year, should gradually start to spend more. Low-interest rates and rising house prices in Sydney and Melbourne will help. Australia should also benefit from a better global economy amid relief that the US and China are stepping back from the brink of a trade war. So long as that forecast is accurate Mr Frydenberg is justified in maintaining the current economic settings.
However, that is not an excuse for doing nothing. The government is happy to devote time to sideshow issues such as its religious freedom bill or mouth platitudes about cutting red tape. Instead, it should seriously re-prosecute some of the important policy debates which were discarded during this lost decade – starting with tax, workplace relations and energy reform.
The Treasurer needs to develop a genuine economic reform plan to boost current growth rates. Without one, surplus or not, he deserves to be punished at the next election.
The Herald's editor Lisa Davies writes a weekly newsletter exclusively for subscribers. To have it delivered to your inbox, please sign up here.
Source: Thanks smh.com