Victorians face nervous wait as heatwave strains power grid
Victoria's electricity grid faces its first big test to keep the lights on this summer as an extreme heatwave hits the state on Wednesday while two key power-generation units remain out of action.
Ahead of scorching temperatures of more than 45 degrees across parts of the state, authorities are bracing for a supply squeeze and have issued a level-two "lack of reserve" warning from 3.30pm to 6.30pm on Wednesday, when millions of people will arrive home to power up their air conditioners and use electricity.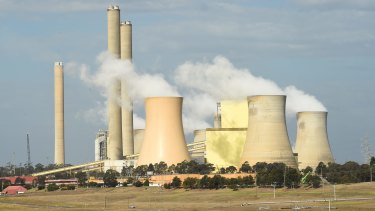 The supply warning from the Australian Energy Market Operator (AEMO) – signalling a potential need to call on emergency power reserves – comes amid a supply shortfall caused by extended outages at AGL's Loy Yang A coal-fired power plant and Origin's Mortlake gas plant which have had key units out of service for months.
Victoria has become increasingly susceptible to blackouts as it relies on an ageing fleet of coal-fired power generators, with rising unplanned outages causing instability in the market.
AEMO has warned this summer's peak demand period in Victoria will be particularly trying, with as many as 1.3 million Victorian homes threatened with a higher risk of blackouts in the event of multi-day heatwaves. This heightened risk is due to the shortfalls caused by the outages at Loy Yang and Mortlake.
AGL, the nation's biggest power generator, said the repairs to its 560-megawatt unit at Loy Yang A coal-fired power plant, which has been out of service since May, had now been completed and it was working to bring it back online "as soon as possible" to help supply energy demand.
Although the unit will not back in service in time for Wednesday's expected shortfall, the company said it expected it to recommence generation on Thursday and then "progressively ramp up in load".
"With the warm weather, we have aimed to bring the unit back to service as soon as possible in a way that is focused on long-term reliability" AGL general manager of operations Doug Jackson said.
"Our teams and the local workforce involved in the repairs have worked incredibly hard to meet our commitment."
Concerns of power issues including blackout risks escalated earlier this month after Origin Energy announced its Mortlake unit – which has been out of action since July and was scheduled to return by December 20 – would now not be operational again until December 30.
The extreme heat poses a dual threat, disrupting gas and coal-fired power generators at the same time as power demand peaks when millions of people arrive home in the evening. That scenario played out last January when up to 200,000 Victorian households were hit with power outages as Melbourne endured its hottest day in five years while units failed at the coal-fired Yallourn and Loy Yang power stations.
Since last year AEMO has secured 1500 megawatts of emergency back-up power, 125 megawatts of reserves through off-market generation and has negotiated programs where heavy energy users are paid to power down or minimise usage during peak periods. AEMO encourages individuals to minimise their usage by delaying unnecessary power use where possible such as using their washing machines and dishwashers.
Energy Minister Lily D'Ambrosio said the government would continue to work with industry groups and AEMO to plan for continued power supply this summer.
"We've been clear with private power companies – they are responsible for ensuring their plants are working, and for any unplanned outages if they are not," she said.
"We've been leading national reforms on energy reliability and now private power companies need to do the heavy lifting to make sure their plants are available when we need them."
Opposition energy spokesman Ryan Smith said the Victorian government was unable to guarantee electricity would be available across the state.
"With temperatures reaching towards 40 degrees this will be the government's first test to deliver the energy supply that Victoria needs," he said.
Source: Thanks smh.com