Wall Street's $4.2 trillion wipeout is no surprise
It was just 12 trading days ago that the S&P 500 capped an almost uninterrupted 60 per cent rally from its March lows, leaving the benchmark at the most-expensive level since the height of the internet bubble. Since then, about $US3 trillion ($4.2 trillion) of the index's value has been erased as it tumbles toward a correction.
Suspected culprits for the sell-off abound: Congress hasn't agreed on another fiscal stimulus package, an increase in COVID-19 case counts in Europe is raising the spectre of more lockdowns, and the Federal Reserve last week failed to give new details on its bond-buying plans. Before those headlines, stock valuations had been surging, setting the stage for a swift reversal whose speed rivals any in history.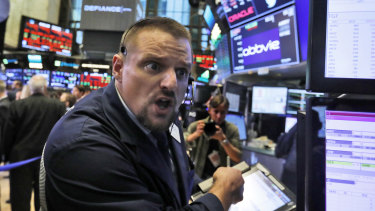 While it's often said that valuations are poor market-timing tools, and rock-bottom interest rates do bolster the case for higher stock multiples, there were plenty of signs that equity prices were getting stretched. When the S&P 500 last hit a record on September 2, the benchmark traded at 27.8 times reported earnings, surpassing levels from 2002 for the first time to reach the most expensive since 2000.
"Sometimes when you look down from a high height, it's scary – and it works that way with markets and valuations too," said Lawrence Creatura, a portfolio manager at PRSPCTV Capital. "Investors are instructed by the past; we are all students of the past. And those history lessons oftentimes leak into investor consciousness."
The S&P 500 shed another 1.2 per cent, bringing the index's loss since September 2 to more than 8 per cent, approaching the 10 per cent threshold that many investors consider to be a stock-market correction. The tech-heavy Nasdaq 100 Index was down 0.1 per cent, extending its decline from a record to more than 12 per cent.
Investors have been whiplashed by extremes in market moves this year. The S&P 500's fastest fall into a bear market on record earlier this year was followed by its hottest five-month streak since the 1930s. The Nasdaq 100's rally was the most forceful since the dot-com era. Technical measures of momentum for both benchmarks had reached the highest since early 2018.
Now, this seemingly all-or-nothing market is reconciling any excesses in the opposite direction with technology stocks leading in the downturn since September 2. An exchange-traded fund that tracks the Nasdaq 100 just suffered its biggest daily outflow since October 2000. Hedge funds have boosted their bearish short positions on tech to the highest since 2008.
The tech-heavy Nasdaq 100 had rallied almost 78 per cent from its March low – and was up 42 per cent year-to-date – by September 2. It was trading for more than 40 times trailing earnings for the first time since 2004.
"Tech stocks got ahead of themselves, particularly in July and August," said Yousef Abbasi, global market strategist at StoneX. "But now, we have faced and continue to face a rationalisation of multiples that should be healthy for the tape. Unfortunately it's come at a time when no other major sector is ready to lead the broader market."
Wall Street strategists have been growing more pessimistic too, highlighting negative momentum signals and technical support levels that have been breached. Both the S&P 500 and Nasdaq 100 closed below their 50-day moving averages last week, levels that had helped end pullbacks several times previously this year.
According to Dennis DeBusschere, a strategist at Evercore ISI, further downside risk to equities is likely limited. In part due to the low level of interest rates, he says losses for the S&P 500 should moderate around 3,250. The S&P 500 traded as much as 0.6 per cent below that level Monday before paring losses.
"The good news is S&P risk-reward is becoming more attractive," he wrote to clients on Monday. "Downside risk to the market remains possible if vaccine development fails or there is another period of widespread economic lockdowns."
Source: Thanks smh.com