Crown inquiry LIVE updates: James Packer pressed on China, Israel links
Summary
Inquiry is investigating probity issues at casino giant Crown Resorts 
Commissioner Patricia Bergin will report on whether Crown is fit to keep the licence for its new casino at Sydney's Barangaroo 
James Packer, who owns 36 per cent of Crown, has been called to give evidence about his involvement in the business 
Issues raised include Crown going into business with figures linked organised crime, money laundering at its Melbourne and Perth casinos, and the arrest of 19 staff in China in 2016
Pinned post from
Watch live: Packer fronts inquiry
James Packer is appearing before the NSW inquiry into Crown casino's junkets and money-laundering.
Latest updates
Mossad connection, $9.1b privatisation – where is this going?
By

Patrick Hatch



The inquiry has taken a very unexpected turn early on, with Mr Packer being questioned about his relationship with Arnon Milchan, an Israeli billionaire and confidant of the president Benjamin Netanyahu, and also a 2015 plan to privatise Crown.
This is ground that inquiry has not covered so far in its 36 days of public hearings.
The inquiry is told that Mr Packer and Mr Milchan were in 2015 planning a cyber security business together which was to involve a figure connected to Mossad. The relevance of that is not clear.
Counsel assisting the inquiry Adam Bell, SC, then introduces two individuals and one company which are to be referred to only by pseudonym: Mr X, Mr Y and the company Z Co.
We're then told that in November 2015, after Mr Packer left the Crown board, he and then chair Robert Rankin planned privatising Crown. (Mr Packer owed about 53 per cent of the company at the time).
Mr Bell says that Z Co was one of the private equity firms they talk to about privatisation, and Mr Y and Mr X were two of the firm's principals.
"That's correct," says Mr Packer.
Mr Bell says the proposal was that Zed Co would put $1.5 billion into the Crown privatisation, based on Crown's current valuation of $9.1 billion.
Mr Packer, however, says he can't recall that. So Mr Bell takes him to a series of emails, that we can only assume spells this out. Z Co comes back and says that it could only provide $400 million.
Mr Bell then takes Packer to another bundle of 13 emails, which is where Packer's legal team interject asking for a confidentiality and non-publication order, with the argument we posted earlier that:
"These communications took place at a state of deep personal crisis of [Mr Packer], the matters if you look at them are matters that will be reflective of that and in our submission there is no public interest in disclosing them".
That's why the public stream has been cut off.
Where the inquiry is going with this is not clear. Fair to say though, it's not what we expected to be hearing about.
Interlude to decide on secret emails
By

Sarah Danckert



We've taken a short break so that Mr Packer can be asked about those emails sent in 2015 about a proposed privatisation deal in a closed hearing.
His lawyers were granted their request for these questions to be asked in private because of concerns about his state of mind at the time of writing the messages.
The first 40 minutes of the inquiry have been pretty jammed packed but very high level questions, which could indicate that we will start to dig in deeper into issues later during today's hearing.
We've touched on Mr Packer's relationships in Israel, China. A biography about him by journalist Damon Kitney was also tendered into evidence. Mr Packer said he only skim read the book and did not read it "cover to cover".
Mr X, Mr Y, Company Z and the secret offer
By

Sarah Danckert



We've entered into one of those strange bits of a public inquiry where certain elements of information are hiding behind suppression orders.
So the inquiry is going through discussions between Mr Packer, and a mysteriously Mr X and a mysterious Mr Y from company Z. This goes to a $400 million privatisation offer mulled by Mr Packer in 2015.
Lawyer for Mr Packer, Noel Hutley, SC, is seeking to have a whole bundle of emails not being presented to the inquiry because it would be unfair to Mr Packer.
"These communications took place at a state of deep personal crisis of my client, the matters if you look at them are matters that will be reflective of that and in our submission there is no public interest in disclosing them," Mr Hutley said.
Chinese high rollers not top of mind, Packer says
By

Patrick Hatch



Counsel assisting Adam Bell, SC, has taken Mr Packer back to 2015, when he was a Crown director and the company was investing heavily in the Chinese "VIP" high roller business, which was starting to bring in big bucks for its casinos in Melbourne and Perth.
This aggressive strategy ended with in the arrest of 19 Crown staff in China in 2016.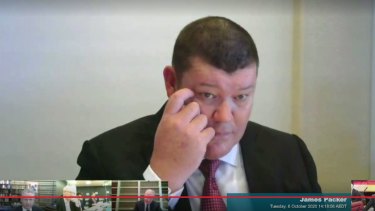 Mr Bell asked Mr Packer whether he was aware Crown was investing heavily in this part of the business. "I can't recall," he said.
"You had a particular interest didn't, you in the VIP business of crown resorts?" Mr Bell asked.
"No more than my interest in other areas of Crown Resorts," Mr Packer responded.
'I wasn't well': Packer quizzed on Crown exit
By

Sarah Danckert



Counsel assisting the inquiry Adam Bell, SC, is taking Mr Packer through his first series of questions about his resignation from Crown in March 2015 .
When asked why he left the company he told the inquiry: "I wasn't well."
Mr Packer was widely known to have suffered mental health problems during that period.
Mr Bell takes Mr Packer through some of Mr Packer's written statements to the inquiry, which says that Mr Packer has been on heavy medication for several years which impedes his ability to remember events from his time on Crown's board.
However, Mr Packer says that reviewing documents from the time can assist his recollection
Packer takes the stand
By

Patrick Hatch



James Packer has taken the stand and is being sworn in.
The billionaire is giving evidence from what looks like a nondescript, empty room, but which we understand to be his $200 million superyacht, moored somewhere in the South Pacific.
He's wearing a black suit, white shirt and red tie.
The 53 year old has been keeping a low profile since stepping back from corporate and public life in 2018 amid a battle with mental illness and probably never expected to face a public grilling like this.
What's this all about then?
By

Patrick Hatch



This inquiry – which has the same powers as a royal commission – was triggered by a series of reports last year by The Age, SMH and 60 Minutes which revealed that Crown went into business with "junket" tour figures linked to Asian organised crime groups, allowed itself to be used to launder drug money, and put its staff at risk of arrest in China (which is what eventually happened).
You can read some of those reports here and here. And this article recaps some of the major revelations that have come out of inquiry's first 36 days of hearings.
What to expect today
By

Patrick Hatch



James Packer live at the NSW casino inquiry
By

Patrick Hatch



Hello, and welcome to our live blog of James Packer's appearance at the NSW Independent Liquor and Gaming Authority's public inquiry into Crown Resorts.
Over the past couple of months, the inquiry has been examining various probity issues at the casino giant and will make a recommendation to the NSW government on whether Crown should keep the licence for its new casino at Barangaroo.
Packer owns 36 per cent of Crown and was its chairman for many years but has not had an official role with the company since he left its board in 2018. However the inquiry has heard the billionaire has continued to wield significant influence at the ASX-listed group.
There's a lot on the line for both Packer and Crown. The impending appearance has already been compared to his media baron father Kerry's (in)famous 1991 Senate tax inquiry appearance.
Witnesses are appearing at the inquiry via video link due to COVID-19. For Packer, that means he's dialling in from his $200 million superyacht, IJE, which we believe is moored somewhere in the South Pacific.
Source: Thanks smh.com