Rio Tinto vows to improve deals with 12 Indigenous groups
Mining giant Rio Tinto has written to 12 Indigenous groups across Western Australia's Pilbara region vowing to release them from gag orders in their land-use agreements and improve social and economic benefits provided for mining their ancestral land.
The letter, signed by Rio Tinto's acting head of iron ore Ivan Vella, comes as the miner seeks to repair relations with First Nations groups following the blasting of the 46,000-year-old Juukan Gorge rock shelters, which left the traditional owners devastated and forced the departure of Rio chief executive Jean-Sébastien Jacques.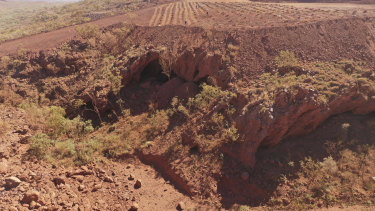 "Rio Tinto recognises that it has much work to do to rebuild the trust of the traditional owners on whose land we operate, and that we need to make changes to the way we work with you," said the letter, obtained by The Age and The Sydney Morning Herald.
"To this end, we would like to engage in further consultation … in order to strengthen our partnership based on respect, transparency and mutual benefit."
Mr Vella's letter states that Rio commits to "not enforcing any of the clauses in our agreement that restricts [traditional owners] from raising concerns about cultural heritage matters with anyone, or for seeking legal protections for culturally significant sites".
It also vows to "maximise" a range of benefits of economic and social opportunities provided to traditional landowners.
The letter comes as Mr Jacques, Rio Tinto's outgoing CEO, prepares to re-appear on Friday at the federal parliamentary inquiry launched in the wake of the Juukan Gorge disaster.
Rio Tinto, which has admitted missing multiple opportunities to better engage with Juukan Gorge's traditional owners that could have prevented the blast, has publicly apologised and is seeking to repair relations with Indigenous stakeholders.
Rio Tinto shareholders and Indigenous leaders have been demanding an independent review into all of the miner's agreements with traditional landowners across its Australian operations.
The Juukan Gorge disaster and parliamentary inquiry have highlighted a power imbalance underpinning negotiations between resources companies and Indigenous groups, including the use of gag clauses in land use agreements that ban traditional owners from publicly objecting to mining activity.
Source: Thanks smh.com