Crown hasn't reviewed China disaster because of 'legal risk', says Coonan
Crown Resorts chairman Helen Coonan has told a public inquiry the casino giant has not reviewed the catastrophic governance failures that led to 19 staff being arrested in China because it might weaken its defence in a shareholder class action.
The former Howard government minister also told the NSW probity inquiry into Crown on Friday the group still had not conducted an investigation into what went wrong before the 2016 arrest of 19 staff in China because it feared doing so could weaken its legal position in a shareholder class action currently underway.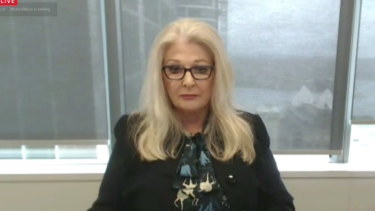 The NSW Independent Liquor and Gaming Authority (ILGA) inquiry will recommend whether Crown should keep the licence for its new casino at Barangaroo in light of revelations by this masthead it failed to prevent money laundering at its Melbourne and Perth casinos, went into business with organised crime-linked "junket" tour operators and put its staff at risk of arrest in China.
Ms Coonan said red flags that it was risky for Crown staff to remain in China – including the government announcing a crackdown on foreign casinos and a staff member being question on suspicion of organising illegal gambling tours – were never raised to the board because employees did not follow its "complex and comprehensive" management policies.
But Ms Coonan, who has been a Crown director for 10 years and chair since January, said the company has not conducted a review because of legal advice it could compromise its defence in the class action. Crown shareholders are seeking compensation for at least $100 million they say they lost when Crown's share price collapsed after the 2016 arrests. She said Crown also did not want to overlap with the ILGA inquiry or a separate probe by the Victorian regulator into the incident.
Commissioner Patricia Bergin, SC, asked whether this meant there had been "no proper look back at what happened to try to take from those events steps forward to ensure that it doesn't happen again?"
"That's correct," Ms Coonan said. "There's not been a bottom-up, forensic pulling apart of it."
Commissioner Bergin asked "why would it matter" if Crown's legal case might be compromised.
"Isn't it more important to get to the bottom of it, even if you are at risk in a [legal] case?" the former NSW Supreme Court judge asked, adding this was especially important for a company that had to justify holding a licence to operate a casino. "Wouldn't that be a better culture?"
Ms Coonan told the Commissioner that Crown had legal advice that "you'd disregard… at your peril", and also had shareholders to consider. But "in retrospect, you could be right", she said.
"Having not done it at the time, here is a good case for a review to see if there is anything we have missed," she said.
Ms Coonan was also asked about an error-ridden statement she and her fellow director signed and published as a full-page newspaper ad last year attacking the reporting in The Age, Sydney Morning Herald and 60 Minutes which triggered the inquiry.
She agreed it was a mistake to include a paragraph questioning the integrity of former employee Jenny Jiang, one of the Crown employees arrested in China and who shared her experience of spending four weeks locked in a jail cell with thieves and drug dealers in the the media expose.
Commissioner Bergin said the reference to Ms Jiang in the advertisement was "most unsatisfactory".
"Yes, I agree it wasn't appropriate," Ms Coonan said.
She said the board relied too heavily on advice from management when it signed off on the statement, and should have "softened" much of the language. That included the assertion Crown had a "robust" process to check junkets for criminal links, and a "comprehensive" anti-money laundering system.
Counsel assisting the inquiry Adam Bell, SC, asked whether the board should have acknowledged in the statement that it in fact shared concerns, raised in the media reports, that Crown failed to heed warning signs in China due to a failure in risk management and corporate governance.
"I just don't think we could have got it into an ad," Ms Coonan said. She said the board's priority was to respond to what it saw as a "ferocious attack" by the press.
Ms Coonan will continue to give evidence on Friday afternoon.
Source: Thanks smh.com