V2food raises $77 million to take its plant-based burgers to China
Billionaire Jack Cowin-backed v2food is tipping more consumers will make the switch to plant-based meat after raising $US55 million ($77 million) in funding, as it looks to start shipping its product into China.
The company has secured support from heavyweight Chinese investors – venture fund Sequoia Capital China, investment bank China Renaissance and Chinese food producer Esenagro – in its latest finding round, which brings the total capital raised by the startup to $112 million.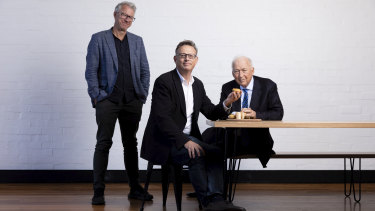 V2food founder and CEO Nick Hazell said getting the product into the hands of consumers in Asia was key priority for the company.
"We're insanely ambitious and our focus really now is on opening up the Asian markets."
"We know that is a very different market out there and there's a lot of opportunities and pitfalls for Australian companies entering into the market," he said. "We've got investors who are China-based, they've been in this space before they understand how the market works."
V2food has created a meat alternative using protein extracted from legumes to make 'mince' that looks, tastes and cooks like meat. Mr Cowin, who owns the Hungry Jack's fast food chain, took a stake in v2food when the startup launched last year alongside Australia's national science agency the CSIRO. The meat alternative is used in Hungry Jack's Rebel Whopper burgers and stocked across Australia in Woolworths.
Mr Hazell said Mr Cowin, who was valued at $2.79 billion on last year's Financial Review Rich List, had "taken one for the team" by sitting out this investment round after it was three times over subscribed to allow v2food to take on strategic investors.
Other investors in v2food include Singapore-based private equity firm ABC World Asia, Hong Kong-based venture fund Horizons Ventures, Singaporean state-owned investor Temasek and the CSIRO's venture capital arm Main Sequence Ventures.
Mr Cowin, said he still held 24 per cent of v2food and bringing on a broader range of investors enabled the startup to look beyond Australia and target the 1.4 billion consumers in China.
"The real future success in this company will be if they can crack Asia," he said. "And that's the challenge. So trying to get some people on board that have a vested interest in doing that, that's what we're trying to achieve."
Mr Cowin said he did not think the deteriorating trade relationship between China and Australia would impact v2food.
"People have squabbles you know, we need China and China needs us, we are business partners and saner minds will eventually prevail in where this thing all comes down," he said.
Mr Hazell said Australia's relationship with China was "obviously a concern for everybody with an eye on exporting to China" but v2food was entering the market with "great optimism".
"An all-out trade war would probably be unhelpful," he said.
"At the moment we believe there's no need for us to cease being ambitious, at the end of the day it all comes down to commercial interests and there is obviously a certain amount of brinkmanship going on there."
Source: Thanks smh.com