'It's not open slather now': new restrictions to prevent apprentice subsidy rorts
Industry group and vocational training leaders have welcomed the federal government's decision to restrict access to its new $1 billion scheme to support 100,000 trainees and apprentices after warning it could be rorted.
The government said it would tighten eligibility to the scheme after concerns were raised about the risk of training organisations and employers signing up existing employees.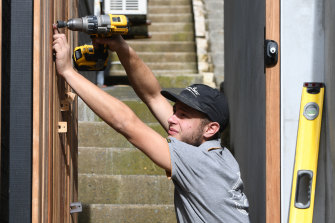 The Australian Industry Group's head of workforce development Megan Lilly said the federal government's decision on Tuesday to restrict access to the scheme would help keep it focused on new apprentices and trainees instead of existing workers.
"Ai Group welcomes yesterday's amendments," she said. "It keeps the important boosting commencements initiative squarely focused on young people entering into trades and traineeships".
The Boosting Apprenticeships Commencements scheme, announced in the federal budget, will subsidise 50 per cent of a new apprentice's salary, worth a total of at least $1 billion.
Dianne Dayhew, chief executive officer of the National Apprentice Employment Network, last week raised concerns that some unscrupulous employers "may exploit the scheme by pushing existing workers into quick, poor quality training to attract the subsidy".
She said the federal government's decision to tighten the eligibility of existing workers to the scheme was "great news".
"That means it is not an open slather now," she said. "There are restrictions on the type of existing worker that can be signed up as an apprentice or trainee."
A spokesman for the federal Minister of Employment and Skills Michaelia Cash said an employer (or host employer using a group training organisation) would be eligible for the subsidy for up to 30 existing workers when they transferred from casual employment to a part-time or full-time Australian apprenticeship. It would also apply when they transfer from a part-time to full-time apprenticeship.
"These restrictions do not apply when an existing worker is signed up to undertake a trade-based Australian apprenticeship," the spokesman said. "This approach balances the benefits of upskilling vulnerable workers with less secure employment arrangements who require up-skilling with creating apprenticeship opportunities for new employees, including school leavers."
Tom Emeleus, general manager for the National Electrical Communications Association. said the changes would "tighten up" eligibility to the scheme and help prevent rorting.
Last week he showed the Herald a spreadsheet a training organisation drew up for employers showing how they could use the scheme to get $30,000 to $40,000 in subsidies including payroll tax for each existing employee.
Get our Morning & Evening Edition newsletters
Source: Thanks smh.com