Macquarie warns of challenging outlook as profits slide by a third
Macquarie Group has warned that the challenging market conditions of the COVID-19 crisis have made it impossible to make profit forecasts after reporting a 32 per cent plunge in first-half earnings and slashing its dividend.
The investment banking giant said on Friday its net profit fell to $985 million in the six months to September 30 as macroeconomic conditions deteriorated in the pandemic and geopolitical volatility increased. Shareholders will receive an interim dividend of just $1.35 per share, down from the $2.50 paid out last year, Macquarie said in a statement to the ASX.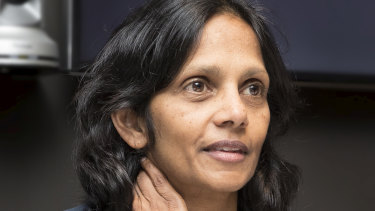 "Recent months have been overshadowed by the profound human impact of the COVID-19 global health crisis and its economic consequences," said Macquarie chief executive Shemara Wikramanayake.
"Those impacts are reflected in our result, notably in credit and other impairment charges in relation to the ongoing impact of COVID-19 on our clients and customers and in delays to realising assets from our balance sheet and our funds," she added.
And the consequences of the pandemic would continue to be felt, she warned. Macquarie's assets under management have shrunk by 7 per cent since March to $556.3 billion.
The profit declines were slightly milder than forecast by Goldman Sachs, which predicted falls of 34 per cent and an interim dividend of $1.30.
Goldman Sachs predicted Macquarie's income from fees would drop by 5 per cent over the half as market conditions deteriorate before "staging some recovery" early next year as merger activity picks up.
Macquarie said the first half of the financial year had been a tale of "two distinct quarters", with the first three months showing strong client activity and increased trading opportunities in the high levels of volatility, while the second half saw more subdued market movements and "significantly reduced client activity".
Around 68 per cent of Maquarie's income is generated offshore, with the Americas, Europe, Middle East and South Africa accounting for 56 per cent of the firm's income.
The group said short-term forecasting was "extremely difficult" as factors including global levels of economic stimulus, potential regulatory changes and unfolding geopolitical events continued to create uncertainty.
Source: Thanks smh.com