Crown 'unable to govern itself' after spiking dirty cash probe, inquiry told
A counsel assisting the Crown Resorts inquiry says the group's decision last year to quash an investigation into money laundering in its bank accounts and only admit it likely occurred after being forensically exposed through the year-long public probe shows it is "unable to govern itself".
"That says more than the fact money laundering actually occurred," Scott Aspinall told the Independent Liquor and Gaming Authority (ILGA) inquiry during his final submissions on Friday.
Mr Apsinall said Crown's stunning about-face and concession this week that criminals probably banked the proceeds of crime in its bank accounts was further proof it could not be trusted to run its new $2.2 billion casino at Sydney's Barangaroo.
"What it says is that this company is unable to govern itself because it cannot see the obviousness of money laundering when it is put before it," he said. "It will not concede and cooperate with a regulator, to agree to that proposition when it is plain as a pikestaff that money laundering had occurred."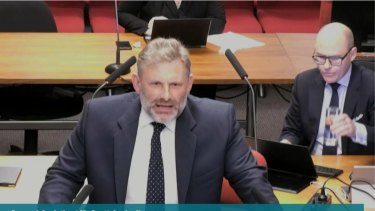 ILGA on Wednesday blocked Crown from opening its new casino next month, and will not be allowed to commence gaming operations until Commissioner Patricia Bergin reports back to the authority on its suitability to hold a licence at all, which is due by February.
The inquiry was launched in August last year, following a series of reports by The Age, Sydney Morning Herald and 60 Minutes into its relationships with "junket" tour operators linked to organised crime and money laundering.
One revelation by this masthead that has become central to the inquiry was that criminals laundered drug money through bank accounts Crown opened through misleadingly named shell companies called Southbank Investments and Riverbank Investments.
The new bundle of evidence Crown tendered to the inquiry at 11pm on Tuesday night revealed that after that report on August 5 last year, Crown's then anti-money laundering manager Louise Lane launched an immediate investigation.
But after Ms Lane – who has since left the company – contacted external consultants to review transactions in the accounts, Crown's lawyers at MinterEllison advised the company that the findings of the investigation would not be covered by legal privileged and it was halted.
Mr Aspinall said that in his earlier submission, he had not encouraged Commissioner Bergin to find Crown had "turned a blind eye" to money laundering, suggesting it had instead happened through ignorance or apathy. "The new evidence… suggests something much more concerning," Mr Aspinall said on Friday.
"Ms Lane had told them there was a problem that needed to be reviewed and they purposely decided not to. That… is perhaps worse than turning a blind eye: it's to turn open eyes away to a problem, and then to turn your eyes away from a problem afraid of what you might find."
While Crown's legal team has argued the money laundering in the Southbank and Riverbank accounts were historical problems and that the accounts were now closed, Mr Aspinall said the fact the decision to kill the investigation was made just last year spoke to Crown's unsuitability.
Crown's chief executive Ken Barton had earlier told the inquiry he did not believe ANZ Bank had raised "serious issues" when it told Crown in 2014 it was concerned the accounts were being used for money laundering.
Mr Aspinall said it was commendable that Mr Barton – who took on the top job in January – now recognised the seriousness of the problem, but that did not change how the gambling regulator "could have any confidence that when faced with future problems that will no doubt arise, Mr Barton will be able to detect and act appropriately in response".
The inquiry, in its last day of public hearings, is continuing on Friday afternoon.
Business Briefing
Start the day with major stories, exclusive coverage and expert opinion from our leading business journalists delivered to your inbox. Sign up for the Herald's here and The Age's here.
Source: Thanks smh.com