Cormann as OECD head would give Australia a louder international voice
If Australia's former finance minister, Mathias Cormann, is to have any chance of becoming the next head of the Paris-based Organisation for Economic Co-operation and Development, he is going to need some friends in very high places.
News that Prime Minister Scott Morrison used his first chat with US President-elect Joe Biden to spruik Mr Cormann's credentials is a welcome sign that the Australian government is fully supportive of his bid to lead one of the world's most influential economic policy organisations.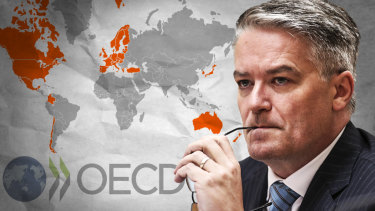 Although America has its own candidate, Christopher Liddell – born in New Zealand and a former chief financial officer at General Motors and Microsoft, who also happens to be US President Donald Trump's deputy chief of staff – it would be surprising to see Mr Biden fully supporting such a candidate.
But Mr Liddell is not Mr Cormann's only competition. There are 10 candidates in all, with some impressive resumes, including the President of Estonia, Kersti Kaljulaid, and Denmark's Ulrik Knudsen, the current OECD deputy secretary-general. Lobbying for the role will continue until next March when the new head will be announced ahead of taking over in June.
The timing is worth noting. With two COVID-19 vaccines expected to be approved in the coming weeks, there is an expectation that by the middle of next year a global vaccination operation will be well under way. The new head of the OECD will inherit a world very much looking for ways to move on from the economic ravages brought on by the pandemic.
For decades, the OECD has shaped global policies and established standards in areas from taxation to trade and education. Originally European-centric, helping rebuild the Continent after World War II, it has over time expanded its purview. America joined in 1960, Japan in 1964 and Australia in 1971. While China and India are not full members, they have in more recent times developed strong ties with the organisation.
A pivot towards the Asia-Pacific region as the emerging centre of the global economy is a key part of Mr Cormann's pitch to European figures. The former finance minister's extensive dealings with China, in particular, would surely be much valued at the moment.
The OECD's most high-profile objective is to renovate the international tax regime. The digital age has allowed multinational businesses such as Google, Apple and Facebook to extract large amounts of revenue from individual nations then shift the earnings to low-taxing countries. Australia tried to go it alone in 2018 with a digital tax but reversed course, fearing the US administration would launch retaliatory measures that could escalate into a trade war.
After some early pessimism, the Herald's Europe correspondent, Bevan Shields, believes OECD observers on the Continent are giving Mr Cormann a serious chance at becoming the first Australian to lead the institution. His biggest hurdle appears to be climate change. Many European governments believe Australia's Coalition government has not done enough and are frustrated it has not explicitly committed to achieving net-zero emissions by 2050.
If Mr Cormann were to land the top job, he would confront a world very much on the brink. A COVID-induced global recession, an increasingly fractious China-America relationship and numerous international bodies crippled by sustained attacks from Mr Trump are all daunting challenges that will require skillful global leadership. To have Mr Cormann as the head of the OECD would certainly give Australia a much louder voice in how the world navigates its way through these difficult times.
The Herald editor Lisa Davies writes a weekly newsletter exclusively for subscribers. To have it delivered to your inbox, please sign up here.
Source: Thanks smh.com