Top business exec Broomhead warns virus recovery may slow green shift
One of Australia's most senior business figures, Malcolm Broomhead, says pressure for companies and governments to commit to stronger climate action is likely to accelerate in the post-pandemic world, but economic factors and behavioural changes may delay the pace of change.
Mr Broomhead, who chairs ASX-listed explosives maker Orica and sits on the board of mining giant BHP, told a mining conference on Friday that he believed a desire for greater uptake of renewable energy and sharper emissions cuts would be among the lasting social impacts of the COVID-19 crisis as people spent more time at home with their families reflecting on the world.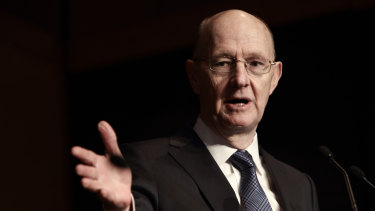 "On the other hand, you've just got economic necessity – countries, in particular, companies and individuals will be under a lot more pressure," he said.
"So what I think is what we will see, coming out of this, is slower economic growth … and we will also see some changes in behaviours."
For the future of fossil fuels such as oil, Mr Broomhead said the economic downturn would reduce oil prices, "but you'll also see people using cars more" due to the public health "fear factor" around public transport.
Although support for wind and solar would continue to rapidly build, the lack of commercial industrial-scale batteries to store and dispense their energy for periods when conditions for renewables were unfavourable meant coal and especially gas would need to remain in the world energy mix for years to come, he said.
"Individuals have been convinced about [climate change], and individuals are putting pressure on their super funds and hence fund managers and banks, who provide us with our funds to be much more cognisant about emissions," he said. "That's just the reality, we've just got to face up to that. But I think the trend might get a bit slower because of COVID."
Australia's resources giants, including BHP, have been facing a rising tide of pressure from climate campaigners and large institutional investors alike to reduce not only their own operational emissions, but also to the vastly greater emissions caused by the shipping and end use of their products around the world, known as "Scope 3" emissions.
BHP has set hard targets to decarbonise its portfolio and is seeking to sell its thermal coal mines in Australia and Colombia and boost its exposure to electric battery ingredients such as copper and nickel, which will be increasingly required as economies decarbonise. The mining giant plans to retain extensive exposure to coking coal and iron ore – both ingredients in the highly emissions-intensive steelmaking sector – as well as oil and gas fields.
Mr Broomhead's comments at the International Mining and Resources Conference (IMARC) come after another Australian business leader, Origin Energy chief executive Frank Calabria, this week declared the dramatic transformation of the energy market is accelerating faster than anyone in the industry would have predicted even six or 12 months ago.
Mr Calabria said the forces behind the energy transition were picking up pace even amid the economic challenges of this year's COVID-19 crisis, pointing to the ongoing rise in Australia's world-leading uptake of rooftop solar panels, with installations across 2020 tracking ahead of 2019.
"COVID has resulted in the acceleration of technology in every aspect of our lives and there will be no turning back," Mr Calabria said. "The same forces are driving change in energy and lasting changes in consumer behaviour."
Business Briefing
Start the day with major stories, exclusive coverage and expert opinion from our leading business journalists delivered to your inbox. Sign up for the Herald's here and The Age's here.
Source: Thanks smh.com