'Immature, reactive, inadequate': APRA slams Westpac's risk culture
The prudential regulator has slammed Westpac's approach to risk, saying there had been no significant improvements and will launch enforceable undertakings against the bank in a sign the money-laundering case will not go away.
The Australian Prudential Regulation Authority launched a review into Westpac's risk governance after the Australian Transaction Report and Analysis Centre (AUSTRAC) filed its lawsuit in the Federal Court last November accusing the bank of breaching anti-money laundering laws 23 million times.
APRA's report has not yet been publicly released, and its review is ongoing, but Westpac said it had been notified of the progress, findings and proposed next steps in an ASX announcement on Tuesday.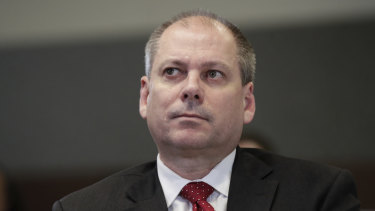 "In particular, APRA identified that Westpac has an immature and reactive risk culture, unclear accountabilities, capability shortfalls and inadequate oversight," Westpac said.
Westpac also launched an internal probe into the bank's risk policies that allowed 23 million breaches of anti-money laundering laws, which found serious failures in technology, expertise and chains of accountability.
Westpac said APRA's review had made similar findings but the regulator was unconvinced the bank had made significant improvements in these shortcomings. "A more holistic and integrated program addressing the full scope of financial and non-financial risk issues and their root causes, is required," Westpac said in a statement on Tuesday.
APRA requires "stronger assurance over delivery" and will slap the country's second largest bank with an enforceable undertaking – the details are yet to be finalised – and another accountability review.
"We acknowledge the findings of APRA's review and accept the need to work faster to address our shortcomings," Westpac chief executive Peter King said.
The bank's share price dipped slightly after the news but has since rebounded to $20.37 per share, 1.19 per cent higher than open.
Westpac aimed to put the money laundering lawsuit behind it by accepting to pay the largest fine in Australian corporate history in September, $1.3 billion.
Velocity Trade senior banking analyst Brett Le Mesurier said the lawsuit will continue to drag on Westpac's expenses for at least another year, if not two, as money is poured into consultants and implementing new risk frameworks. "The expenses won't be falling at Westpac for a while that's for sure," he said.
Mr Le Mesurier said the wording of APRA's review was "strong" and would be "confronting" for the board, but the enforceable undertaking will provide a "large incentive" for the bank to straighten out its risk governance.
"It will be addressed now but I'm just wondering why they let it get to this stage? Why didn't senior management team and board think it's acceptable? I don't have the answer to that. Clearly there were a lot of mistakes made."
Westpac fined over liquidity breaches
APRA launched a separate enforceable undertaking against Westpac over breaching prudential standards on liquidity by incorrectly treating funding for loan products.
APRA said the liquidity breaches had been rectified and were not material to the bank's current position but "demonstrate weaknesses in risk management and oversight, risk control frameworks and risk culture".
The regulator has now directed independent third parties to conduct "comprehensive reviews" of Westpac's compliance with liquidity reporting requirements and applied a 10 per cent increase to the group's net cash outflows.
APRA deputy chair John Londsdale said breaches of prudential regulations are taken "seriously". "In taking these actions, our objective is to obtain assurance that Westpac is complying with APRA's liquidity requirements," Mr Londsdale said.
"It also sends a message to the wider banking industry that breaches of prudential standards are not acceptable, and APRA will respond as appropriate, including by imposing penalties."
Business Briefing
Start the day with major stories, exclusive coverage and expert opinion from our leading business journalists delivered to your inbox. Sign up for the Herald's here and The Age's here.
Source: Thanks smh.com