Former Flight Centre workers get day in court over alleged underpayment
Five former Flight Centre workers have spoken of pressure to attend all-but-mandatory "buzz nights" and working outside rostered hours in the first day of a federal trial alleging the tourism giant underpaid them more than $200,000.
The Together Union launched court action on behalf of the five former employees last year, after an investigation by law firm Maurice Blackburn uncovered the alleged failure to pay them wages and penalties – potentially spanning thousands of current and former staff.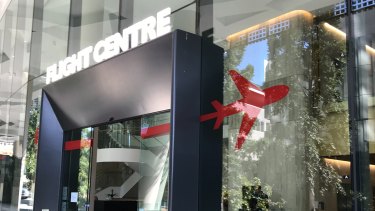 The trial in Brisbane's Federal Circuit Court, expected to take four days, began under Judge Michael Jarrett on Monday.
Acting for the union, Charles Massy told the court his clients alleged Flight Centre breached multiple sections of the Fair Work Act by failing to comply with provisions under the award for wages, annual leave and two 10-minute breaks.
The travel company also allegedly failed to pay base pay under annual leave for the group and keep records of overtime worked, which amounted to more than three hours each week and Sunday shifts for three of them, he said.
The five former staff members, who worked across stores throughout Queensland and one in NSW, were cross-examined as witnesses about whether any work beyond their rostered shift to finish tasks was for their own financial gain – particularly when it came to customers entering the stores at the last minute.
Elisha Forrest, who had worked at the Surfers Paradise store, told the court there was an element of this but given it was domestic travellers frequenting the store, any commissions made were "probably not even worth the hourly rate".
Another former staff member who worked at the company's Warringah store in Sydney's north, Ruby O'Connor, said there were targets to be met and an "expectation" that any customer who walked in left with a written quote.
The court also heard about the so-called "buzz nights" held for staff in different regions. These would include the handing out of awards, food and drinks paid for by the company, and occasional activities or presentations from corporate suppliers updating staff on new products or attempting to gain preference.
Asked by Minter Ellison lawyer Amanda Freeman, acting for Flight Centre, if the events were a "social occasion", Ms O'Connor said the two-to-three hour occasions were "made out to be".
Earlier in the proceedings, former Townsville-based staff member Grace Barrett said the monthly events were "mandatory" and "we all had to go". After the birth of a child, Ms Barrett said she had to "fight" to be excused from them.
Some of the five also spoke of starting work 30 minutes early on occasion for meetings and briefings, and being unsure about whether lunch breaks spanned one hour or 30 minutes.
In a statement issued before the proceedings began on Monday, Maurice Blackburn principal Giri Sivaraman said though Flight Centre had since changed the "dubious system", those impacted needed to be compensated for outstanding entitlements and could number into the thousands.
The company has in the past categorically denied paying staff below minimum wage after reports emerged in 2018, and said if a worker's retainer and commission combination fell below the award rate, this was topped up to the appropriate level.
Source: Thanks smh.com