China's leverage over Australian exports is immense, but good luck with iron ore
China's steelmakers are understandably frustrated as they watch the price of iron ore – the commodity on which they are so dependent – soar into the stratosphere and eat away at their profits. And the most frustrating element is there is little they can do about it.
The fact that they are attempting to have hard-hitting conversations with the two largest Australian suppliers, Rio Tinto and BHP, about the runaway prices suggests they have limited leverage.
On the face of it the attempts to bully iron ore producers seem absurd, given the suppliers don't set the price. It is determined by supply and demand and one of the major reasons the price is on a tear is that China's appetite for iron ore is rising faster than supply is being produced.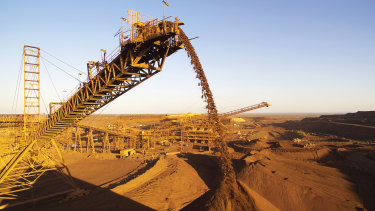 (The other is that supply from Brazil has been severely constrained – which has nothing to do with Australia's producers).
The latest price spike – which saw iron ore break through the $160 barrier – has been exacerbated by a 13 per cent fall in November exports sent through West Australia's major hub at Port Hedland.
China's steel industry peak body, China Iron and Steel Association (CISA), appears to be suggesting that Rio and BHP have in some way manipulated the price through what they are calling "possible violations of laws and regulations" and are calling for Chinese regulations to crack down on suppliers.
It is understood that in its meetings with BHP, CISA was attempting to get guidance or commitment on next year's supply given the upcoming West Australia cyclone season. China is also concerned about the proposed moratorium on approving new projects following recommendations made by the inquiry into Rio Tinto's Juukan Gorge cave blast.
Publicly releasing the threat made to Rio and BHP did produce some price response. Iron ore fell by 3.7 per cent to $US154.37 on Tuesday. Whether this piece of jawboning can override the dynamics of supply and demand is questionable. It's a tactic that the Chinese steelmakers have employed in the past – one they dust off when iron ore prices start moving too fast.
Back in 2010, China Iron and Steel Association attempted an iron ore boycott, but it failed miserably.
The Chinese government's massive post-COVID economic stimulus – driven through spending on infrastructure and property – is highly reliant on steel which in turn is reliant on iron ore.
Realistically any curtailment of Australian iron ore inputs would only put additional pressure on iron ore prices.
For most if not all Australian goods exported to China, it's a buyer's market. Maybe not the same brands or the equivalent quality, but China can source everything from wine, timber, beef, lobsters and now coal from other countries.
The leverage China has over Australian suppliers of most goods and services is immense.
But iron ore is a seller's market and Australia is the seller. The doubling in its price over the past year is a testament to that.
While China must be unwilling to shoot itself in the foot by messing with iron ore supply, it has stepped up its trade retaliation through an informal blacklisting of Australian coal imports.
It's a move that China has been flirting with for several months and has resulted in hundreds of millions of dollars worth of coal stuck floating outside Chinese ports.
While it is still not yet an official edict, the state-run Chinese newspaper, the Global Times, has reported China has decided to allow its coal power stations to import supply from other countries – but not from Australia.
For Australia the inclusion of coal in this China trade war has been the most costly one to date.
A total ban of Australian coal exports to China would cost about $14 billion in export income – an amount that swells to around $20 billion when other products such as wine and beef, which have been recently targeted, are included.
Trade Minister Simon Birmingham has called Chinese authorities to rule out the reports of the coal bans. But like similar recent pleas made by the Australian government this one is likely to fall on deaf ears.
China steelmakers have the ability to replace Australian coal with imports from Russia, Mongolia and Indonesia but steelmakers have also needed to source more expensive domestic coal.
Thus the Chinese government is in part responsible for the profit pinch being felt by its own steelmakers.
It would be additionally galling to China that the rise in the iron ore price is offsetting the economic punishment it is looking to inflict on Australia in response to the escalating diplomatic stoush.
Business Briefing
Start the day with major stories, exclusive coverage and expert opinion from our leading business journalists delivered to your inbox. Sign up here.
Source: Thanks smh.com