Tesla misses delivery and sales targets
Tesla says that deliveries in the last three months of the year rose 18 per cent from the previous quarter, disappointing Wall Street analysts and adding to pressure on Elon Musk, the company's CEO, to focus on making cars rather than overhauling Twitter.
Tesla said it delivered 405,000 electric cars from October through December. Wall Street analysts had predicted that Tesla would sell around 420,000 vehicles, up from 343,000 vehicles in the third quarter.
The company sold a total of 1.3 million cars in 2022, a 40 per cent increase from the year before. That was short of the 50 per cent annual growth target Tesla had set for itself.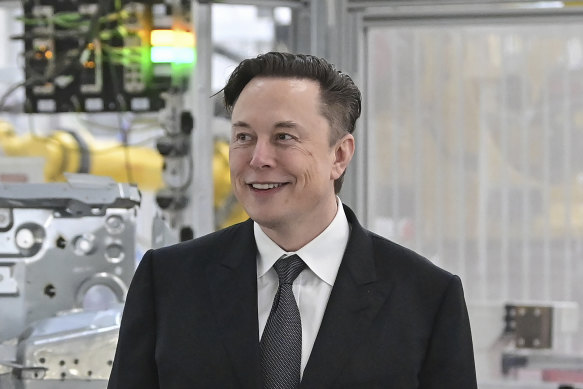 While the increases were impressive by auto industry standards, Tesla has become the most valuable carmaker in the world by growing at the sizzling rates more commonly associated with Silicon Valley technology companies.
In recent months, Tesla has appeared vulnerable to competition from established carmakers and to rising borrowing rates which made its electric cars more expensive for people taking out loans. Indications that Tesla is mortal have contributed to a 65 per cent decline in Tesla shares in 2022, and led investors to focus more on conventional measures like sales and profits rather than dreams of world domination.
Fourth-quarter deliveries were below the forecasts of analysts, who had already lowered their expectations, and less than Tesla executives had suggested just a few months ago. Tesla said it produced 440,000 cars during the quarter, 34,000 more than it delivered, suggesting that supply chain problems and production woes were not the main explanation for disappointing sales.
Martin Viecha, head of investor relations at Tesla, said on Twitter that the gap between deliveries and production reflected vehicles in transit to customers.
There was no trading in New York on Monday because of the New Year's holiday. But the numbers will probably reinforce investor fears that Musk is too focused on Twitter, which he acquired in October.
"No way to sugarcoat this," Gary Black, managing director of the Future Fund ETF, an investment fund not associated with Australia's sovereign wealth fund, said on Twitter. He predicted that analysts would reduce their estimates of Tesla sales and profits in 2023. Tesla will report 2022 earnings on January 25.
Last week, Musk tried to reassure Tesla employees, telling them not to fixate on the stock price and repeating assertions that the carmaker would become the most valuable company in the world, Reuters reported.
China, the world's largest car market, is a big focus of investor concerns. The sharp rise of COVID-19 cases in China has weighed on demand and forced the company to periodically suspend production at its biggest factory, in Shanghai.
In addition, Chinese manufacturer BYD has raced past Tesla in electric vehicle sales in China, casting further doubt on Musk's ability to achieve world domination in the auto industry.
The growth of Tesla sales exceeds any major rival in percentage terms. The company is also among the most profitable carmakers in the world and is ramping up new factories in Texas and Germany.
But the company faces more intense competition from traditional carmakers like Ford, General Motors and Volkswagen. Those companies have decades of experience mass-producing vehicles cheaply, and some investors believe that those carmakers could catch up with Tesla more quickly than expected.
"No way to sugarcoat this."

Gary Black, managing director of US group Future Fund ETF
Tesla also faces softening consumer demand, partly because of rising interest rates. Wait times for Tesla models have shrunk, and the company has cut car prices in China and offered incentives to buyers in the United States.
Car buyers, especially the left-leaning, environmentally aware consumers who tend to buy electric cars, also appear to be turning away from Tesla because of Musk. His erratic behavior at Twitter and heated rhetoric on the social media platform have endeared him to conservatives and Silicon Valley executives but outraged other people.
Daniel Ives, an analyst at Wedbush Securities who has pleaded with Musk to focus his energy on Tesla, said the fourth-quarter deliveries were decent considering the difficult economic environment. "We believe this was a relatively good performance," Ives said on Twitter.
Tesla sales could get a boost after its cars became eligible for federal incentives on January 1. A new law abolished a limit on the number of vehicles from any one manufacturer that were eligible for tax credits of up to $US7,500 ($10,997). Tesla had used up its quota.
Tesla cars made at the company's factories in Texas and California also meet the requirement that vehicles must be manufactured in the United States, Canada or Mexico to be eligible for credits.
This article originally appeared in The New York Times.
Source: Thanks smh.com