Fitness professionals exercising their career options
As Australians of all ages, shapes and sizes kickstart their annual fitness resolutions (again), for those who've chosen a career in the fitness industry, the satisfaction of helping clients is a year-round proposition.
When Aleksandra Boltadzija, a personal trainer from south-west Sydney, made the switch to fitness after 15 years in the disability sector, her goal was to turn a hobby into a career.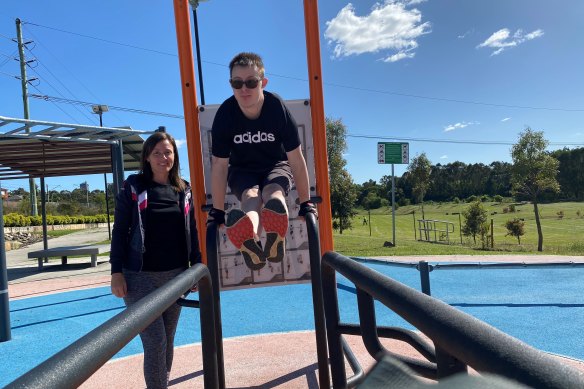 Given that she was also passionate about supporting people with a disability with life and work skills, Boltadzija decided to combine the two through SESA Fitness, a personal training business for people with a disability.
"Every program is individualised based on a person's disability, health history and goals. [Plus], every session is different based on the person's health status that week," Boltadzija says.
Her job means she's become an expert in modification workouts for clients.
"I have to adjust my communication based on the person I am working with…I have deaf clients with whom I need to use visual cues, simple written instructions and ensure I am always facing them when I talk. I also work with a lot of clients that have an intellectual disability. It is important to use simple language when talking to them, so they can understand instructions," she says.
'I had many people visit me … who no-one would work with. They were placed in the too hard basket.'

Margie Cerato, founder of a non-profit to provide personal training services for people with disabilities
Keeping up with industry standards is vital – AUSactive (previously Fitness Australia) registration is well regarded by those across the fitness profession. Boltadzija has also developed her knowledge of nutrition as part of her ongoing professional development.
"I provide additional support such as private shopping tours and cooking classes, which teaches my clients how to eat well and understand the difference between wholefoods and processed foods. They learn how to budget appropriately and cook delicious, simple, healthy meals," Boltadzija says.
In Melbourne, owner of Vibes Fitness, Margie Cerato, has been working in fitness since she was a teenager. A decade ago, she founded a non-profit called Celebrating Abilities, which offers programs for clients who are often told their needs are "too complicated".
"I had many people visit me through Vibes Fitness who no-one would work with. They were placed in the too hard basket," Cerato says.
Cerato has created an inclusive space for all abilities to learn everything from basic fitness to aerial yoga, and tailors programs to suit. Her clients range from the hearing impaired, who attend training with an Auslan interpreter, to clients with Down Syndrome, ADHD or in stroke recovery.
"This is not work for me. This is my passion," Cerato says, noting that in her opinion, the best fitness instructors have good technical knowledge, upskill regularly and have strong emotional intelligence.
As part of her work, Cerato aims to shift societal perspectives from a focus on disability to a celebration of ability.
"My plan is to move the studio in 2023 and set up an ability studio that includes a playground [in a] wheelchair-accessible building and a sensory room for kids," she says.
As well as producing manuals for fitness instructors (the next will focus on instructing clients with disabilities), Cerato is constantly upgrading her own skills.
"The best part about working in the industry is making people's dreams come true," she says.
KEY FACTS:
As a fitness professional, niching can benefit your career in a multitude of ways.
Start by considering your passions – do you prefer to support a particular demographic or gender, or people with a specific health issue?
Specialist training will ensure you work safely in your chosen area of speciality, and can be of most benefit to your clients.
Source: Thanks smh.com