ASX opens higher as tech shares boost Wall Street
The Australian sharemarket has started the day in the green, buoyed by a strong rally on Wall Street overnight even as materials and industrial stocks weighed on the index.
The ASX200 was up 0.13 per cent or 10 points to 7467.3 points at 10:30am AEDT.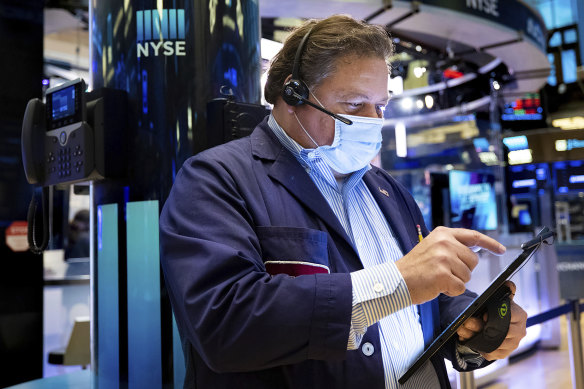 Breville Group, Afterpay owner Block, and Premier Investments are the best performers so far, up by 7 per cent, 6.3 per cent and 5 per cent respectively.
Meanwhile, Coronado Global Resources, Perseus Mining and Telix Pharmaceuticals are at the bottom of the bourse, down 2.8 per cent, 2.6 per cent and 1.7 per cent respectively.
Overnight,the S&P 500 closed 1.2 per cent higher, led by tech companies in a widespread rally. The Dow Jones added 0.8 per cent and the tech-heavy Nasdaq composite jumped by 2 per cent.The ASX added 0.1 per cent on Monday.
Markets have been churning for weeks with sharp swings in both directions. On one hand, they've benefited from hopes that the nation's high inflation will continue to cool and get the Federal Reserve to loosen up on its blizzard of hikes to interest rates. On the opposite end, they've taken hits on worries about a possible recession because of rate hikes already pushed through by the Fed.
The yield on the two-year Treasury, which tends to track expectations for Fed movement, rose to 4.21 per cent from 4.18 per cent late on Friday. The 10-year yield, which helps set rates for mortgages and other important loans, rose to 3.51 per cent from 3.48 per cent.
More recently, concerns have also been rising on Wall Street about the strength of profits at companies because of the slowing economy and higher expenses. That's key because profits are one of the main levers that set stock prices.
This upcoming week will see more than seven dozen companies in the S&P 500 report their results for the last three months of 2022, including some of the most influential. Headliners include Microsoft on Tuesday and Tesla on Wednesday.
Such big tech-oriented companies have already been announcing layoffs to cut expenses after acknowledging they misread the boom coming out of the pandemic and grew too quickly. Spotify said Monday it will cut 6 per cent of its workforce, and its shares rose by 2.1 per cent.
Big Tech stocks carry particular weight on Wall Street because they're some of the market's most valuable. That means movements for their stock prices hold bigger sway over the S&P 500 and other indexes than smaller stocks.
After soaring through the pandemic thanks to super-low interest rates and a surge in demand from suddenly homebound customers, they've been struggling over the last year as the Fed has been furiously raising rates.
Also adding pressure on markets is another partisan battle in Washington about the nation's ability to borrow. Wall Street has seen this argument many times already, but if the two parties can't agree to allow the US government to borrow more, economists say it could create chaos in markets and cause a recession on its own.
AP
The Market Recap newsletter is a wrap of the day's trading. Get it each weekday afternoon.
Source: Thanks smh.com