Fahour's Latitude expands buy now, pay later push with Humm deal
Consumer finance upstart Latitude Financial's boss Ahmed Fahour says his group's planned purchase of the credit card and buy now, pay later businesses of finance group Humm will create a consumer lending juggernaut that serves 5 million customers.
Latitude on Thursday made a $330 million offer for the consumer businesses of Humm, a group that was up until recently known as Flexigroup, creating a business with $8 billion of receivables and access to 70,000 merchants. The deal would give Latitude access to Humm's growing customer base.
Both Humm and Latitude have strong business links to retail giant Harvey Norman.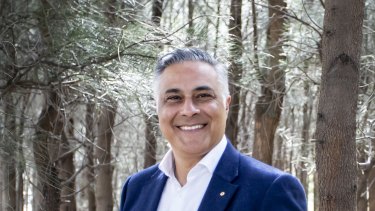 "If you look at all of the major financial institutions, other than the four major banks, we would be number one in consumer offerings outside of mortgages and deposits," Mr Fahour said.
"We'll be able to get cross-selling from our personal loans, insurance and auto loans area, straight into their (Humm's) customer base because they don't offer those products," Mr Fahour said.
He also said the combined group would be one of the best placed in the buy now, pay later sector to handle any regulatory intervention regarding responsible lending, saying that Latitude conducts a full credit check on all of its customers regardless of how small the borrowing.
"This is lending money, and you need to do it responsibly, and a credit assessment minimum thing that you need to do not everybody does that in the marketplace," Mr Fahour said.
It is hoped the increased scale will also make it easier for the group to compete with larger buy now, pay later groups such as Afterpay and Zip Co. A deal for Humm was not unexpected after the group told the ASX in December that it had received approaches from third parties.
Under the Latitude offer, Humm will retain its commercial business which provides asset finance to companies. Humm chief executive Rebecca James, who helped expand the Humm business into new business lines, will join Latitude as part of the transaction.
The Latitude deal will see Humm receive 150 million Latitude shares and $35 million in cash. Humm said in a statement to the ASX that the deal equated to 68 cents per Humm share. Humm's shares bounced around on Thursday, first shooting up 8 per cent before paring those gains to trade up 0.5 per cent at 90 cents as investors digested what the deal meant for the value of Humm remaining commercial business after the deal is completed.
Humm has granted Latitude exclusive due diligence until January 31 as part of a non-binding agreement between the two companies. As the offer is in shares and cash Humm will also conduct due diligence on Latitude's business. The transaction, if it eventuates, will be conditional on reviews from the tax office and approvals from regulators and Humm shareholders.
Humm chairman Christine Christian said the company was committed to maximising shareholder value. "In this context, we believe that the Latitude proposal is potentially attractive to HUM shareholders and warrants due diligence and detailed negotiation."
Source: Thanks smh.com