Cannon-Brookes takes swipe at Forrest, commits to rebuilding Sun Cable
Billionaire Mike Cannon-Brookes has taken a swipe at his former business partner and rival billionaire Andrew Forrest over the collapsed $35 billion Sun Cable project amid suggestions a number of new local and international investors could be sizing up the business.
In a statement on Thursday, Cannon-Brooke's personal investment fund Grok said it was committed to the project and would be willing to work alongside a consortium of "constructive" new investors to rebuild Sun Cable after a spat between the two high-profile businessmen led to the company's collapse earlier this week.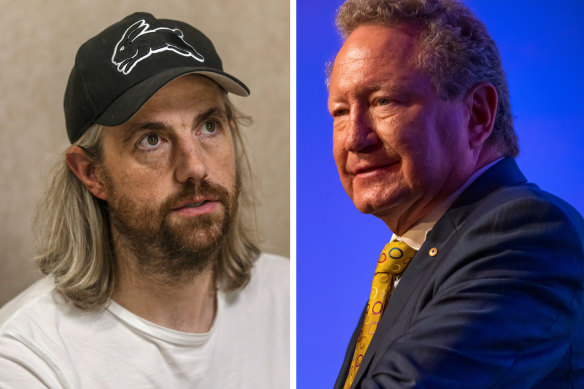 "We have made it clear in our statements that we remain committed to the company. If there is an opportunity to remain invested alongside a consortium with constructive partners it is something we would certainly consider," the spokesperson said.
Sun Cable was placed into voluntary administration this week after Forrest and fellow shareholder Cannon-Brookes were unable to agree on new funding terms to prop up the ailing business which had reportedly been bleeding cash for a number of months.
Both sides had proposed new funding packages for the business but were unable to agree on the structure of the deal and vetoed each other's plans, leaving no path forward other than administration.
Underlying this were concerns from Forrest's side that tech-savvy Cannon-Brookes – who chairs Sun Cable's board – did not have the required experience to oversee such a large infrastructure project.
Grok appeared to refute this on Thursday, saying Sun Cable was "not just a construction project".
"There is a requirement for the most sophisticated technology and engineering capabilities to meet the opportunities ahead," the spokesperson said.
Cannon-Brookes' affirmation of his ambitions for Sun Cable comes after questions over his desire to stay on as an investor, with sources saying Grok's initial proposal to tip more funding into the project before its collapse included a clause that would open the door to a sale of the business if it continued to miss its milestones, suggesting Grok could have been looking for an exit.
Sun Cable is now in the hands of its administrators, FTI Consulting, who will look to achieve the best results for shareholders, which could include a sale or a recapitalisation process.
Sources said there could be a number of potential buyers or new investors, pointing to the suite of bidders who had been interested in acquiring renewables player CWP last year. Canadian pension fund CDPQ, local energy retailer Origin Energy, Future Fund-backed Tilt Renewables and major Spanish energy company Iberdrola had all made offers for CWP.
However, these bidders were gazumped by none other than Forrest's own Squadron Energy, which succeeded in purchasing CWP in a surprise $4 billion bid, meaning the billionaire may need to buddy up with his former investing rivals if he wants to remain invested in Sun Cable.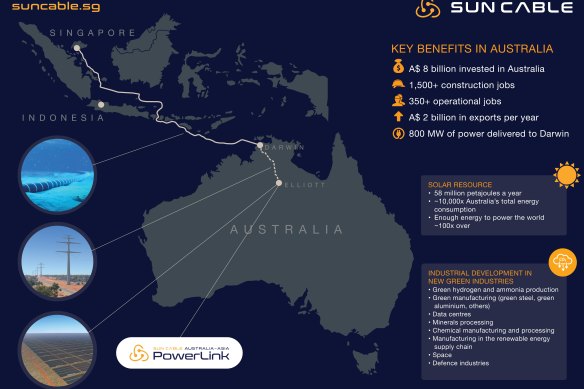 CDPQ and Tilt declined to comment on Thursday. Iberdrola and Origin, the latter of which is in the process of being acquired by Canadian fund Brookfield, are unlikely to be interested.
Sun Cable shareholders – which include MYOB founder Craig Winkler and NextDC chief executive Craig Scroggie – will have their first creditors' meeting for the business on January 20.
Sun Cable was founded in 2018 and planned to send solar-powered renewable energy via an undersea cable from the Northern Territory to Singapore. The operation is set to cost about $35 billion and had attracted widespread support from investors and the federal government, with Prime Minister Anthony Albanese last year labelling it an exciting project.
On Thursday, Energy and Climate Change Minister Chris Bowen said the government remained excited about Sun Cable's potential despite the collapse.
"The government understands this is a commercial restructuring decision which doesn't represent any lack of faith in the long-term future of the project itself," he said.
Similarly, the business' voluntary administration has not affected its coveted "investment ready" status from Infrastructure Australia, with a spokesperson confirming the independent body's view of the project's merit remained unchanged.
In its initial evaluation of Sun Cable, Infrastructure Australia highlighted the business' private funding and $35 billion in required capital as a key risk, noting "the sheer size of the [capital expenditure] suggests that there is a high risk of delays and in finding sufficient resources".
Sun Cable had planned to develop a 4200-kilometre underwater transmission line that would transmit solar power generated in the Northern Territory to Singapore, which could have met up to 15 per cent of Singapore's demand.
The Northern Territory's acting chief minister, Nicole Manison, said the local government was confident new funding sources would be found, labelling Sun Cable an important project for the territory.
Source: Thanks smh.com