Forrest v Cannon-Brookes: The billionaire game of chicken over giant solar project
A billionaire game of chicken is playing out between tech mogul Mike Cannon-Brookes and iron ore baron Andrew Forrest over the future of a $30 billion marquee solar project in which both are equal sized shareholders.
Australia's two high-profile environmental warriors have a marriage of ideology but money and control speak a different language.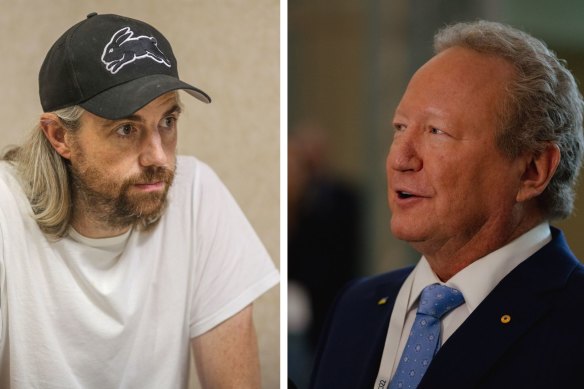 The company over which these two major shareholders are in dispute, Sun Cable, is looking to build the world's biggest green-energy export project, with plans for a giant 20-gigawatt solar farm in the Northern Territory that would export a large chunk of the power to Singapore via a 4200-kilometre-long subsea cable.
The brawl between the titans on how to proceed with future funding has resulted in Sun Cable being placed into voluntary administration. In turn, this could mean that the tens of millions that both men have invested may be lost as the voluntary administrator seeks new buyers or fresh capital investors to keep the company and its projects alive.
Those who have dealt with Cannon-Brookes and Forrest wondered from the start how the two "type-A" personalities would be able to share the control of a company.
It comes with the territory that each has a robust sense of their own abilities and business judgement.
Forrest has made himself a maverick legend for going it alone and defying his big competitors and detractors to build his company Fortescue to become a force in iron ore.
Cannon-Brookes has also been a corporate trailblazer having co-founded a multibillion-dollar business, Atlassian Corporation, which forged its path in software technology.
Cannon-Brookes has built a reputation over the past year in shaking up the strategy and management of AGL. His quest to overhaul Australia's largest emitter has resulted the company fast tracking of its timetable to reduce emissions.
When commercial judgement and egos collide, the energy produced could probably rival that of the project they are fighting about.
Forrest and Cannon-Brookes teamed up more than a year ago to provide funding for Sun Cable.
The enormous size of the project and the big names behind it caught the eye of the community and a tick from the government and served as a marvellous piece of green branding for Australia.
If it were to fail as a result of this dispute, Australia would sustain a reputational green-eye.
But in the closing months of 2022, a sizable chasm emerged between Sun Cable's two high-profile backers around the management, control and funding of the company.
Shareholder agreements give both billionaires equal rights and vetoes over Sun Cable and its funding.
They were the largest contributors to a $210 million capital raising that Sun Cable completed in the early months of last year.
Those who have dealt with Cannon-Brookes and Forrest wondered from the start how the two "type-A" personalities would be able to share the control of a company.
This capital could be drawn down by Sun Cable in instalments – but only after meeting various progress hurdles. In November last year, one of those hurdles that related to Indonesian permits was not met by Sun Cable's management, which is led by its founder and chief executive David Griffin.
This meant the $65 million that was due to reach Sun Cable's coffers was held back while the two billionaire protagonists argued about the terms under which it would be released.
Each vetoed the other's plans to recapitalise the company. After these agreed facts, accounts of what happened next diverge – depending on which of the warring parties is recounting.
Other shareholders in Sun Cable are said to have agreed with the Cannon-Brookes proposal that the money be given to the capital-needy company but with stricter rules around operations.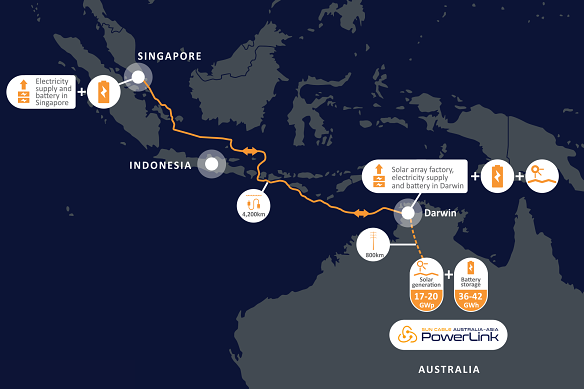 The Cannon-Brookes camp says Forrest wanted the founders' holdings to be diluted and the management to be replaced by Forrest's people.
The Forrest side suggests that Sun Cable management is profligate, burning through cash too quickly and questions its ability to manage a project this size. But team Forrest is not saying that taking control of Sun Cable was a condition of its ongoing funding support.
Rather it believes that the current management hasn't got the expertise to deliver on a project of this size and was unwilling to take the advice from Forrest's team, which has expertise in large infrastructure projects.
On the other hand, Cannon-Brookes has supported management to remain in their jobs but on the condition that some tighter key performance indicators were met.
The only thing on which they can agree is that the result was a stalemate between the two big shareholders, which in turn left Sun Cable without the funding it needed to continue trading.
The impasse will now be adjudicated by the administrators. But it will likely not spell the end of the project.
There is a very real chance that both billionaires will put in bids to buy or recapitalise the company, which is hopeful of signing a supply deal with the Singapore government over the next 12 months.
In a pointed statement on Thursday, Cannon-Brookes' private company Grok said: "We have made it clear in our statements that we remain committed to the company. If there is an opportunity to remain invested alongside a consortium with constructive partners it is something we would certainly consider."
Squadron Energy, which is the company through which Forrest holds his interest in Sun Cable, won't rule out a continuing involvement but only if a different management and board are put in place.
Squadron chairman John Hartman said on Thursday: "A project with the scale and ambition of Sun Cable requires vision and precise execution.
Squadron Energy believes in the vision but believes the manner in which the project is delivered needs urgent change. Exceptional governance practices and world-class expertise will be required to make the dream a reality."
But then there is another view among some in the energy industry that this is a huge white elephant/vanity project with dubious commercial credentials.
This debate will be decided when we see how well the administrators do in their search for new investors.
The Business Briefing newsletter delivers major stories, exclusive coverage and expert opinion. Sign up to get it every weekday morning.
Source: Thanks smh.com