Put the 'nepo babies' in charge of the luxury business
When it comes to luxury, nepo babies aren't so bad.
Young, rich and surrounded by expensive toys, they exhibit the characteristics that high-end buyers aspire to. As long as they are qualified for the job, keeping the bling kids around has merit.
On Wednesday, Bernard Arnault, founder, chairman and chief executive officer of LVMH Moet Hennessy Louis Vuitton, announced a shake-up of the world's largest luxury group, appointing his daughter Delphine to run Dior, its second-biggest brand.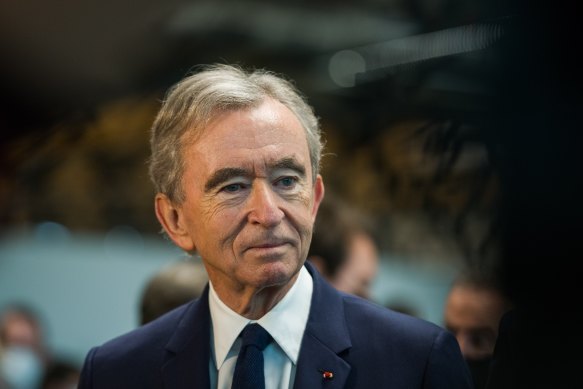 All the Arnault children have roles within the group, with the two oldest, Delphine and Antoine, on the board, paving the way for the eventual succession to the next generation. The patriarch is tightening his grip on power in other ways too. Last year he restructured family-owned Agache, the controlling shareholder in LVMH, into a partnership, with its share capital held equally among his five children. Agache holds 48 per cent of LVMH's capital and 63 per cent of its voting rights.
In many other groups, such behaviour would spark an outcry among minority shareholders. Yet LVMH's combination of family stewardship plus capital-market discipline is working. Still, investors must be on guard for potential pitfalls.
There is no arguing with LVMH's performance. The shares hit a record high on Thursday, helping the company's market value double from about 200 billion euros ($311 billion) to almost 400 billion euros over the past three years. This has propelled Arnault above Elon Musk as the world's richest man. It has also delivered an outperformance in LVMH's total return of 77 per cent compared with the Stoxx 600 index over the same period.
As a family-controlled company, LVMH manages for the long-term. This is evident in the other element of Wednesday's announcement: a new leader at Louis Vuitton, the group's most important brand.
Longtime Louis Vuitton chief executive officer Michael Burke will take up a new role, reporting directly to Arnault. Pietro Beccari, who has turbocharged Dior since 2018, will succeed Burke. Dior, best known for its Saddle and Book bags, has increased sales threefold to 6.6 billion euros and more than doubled the operating margin to 38 per cent under Beccari's tenure, according to estimates from analysts at Citigroup.
At Louis Vuitton, the most pressing task now is appointing a new creative director for menswear to succeed the late Virgil Abloh. Hospitality is another opportunity, following the $US2.6 billion ($3.7 billion) acquisition of Belmond four years ago. The company is planning to open the first Louis Vuitton hotel in Paris.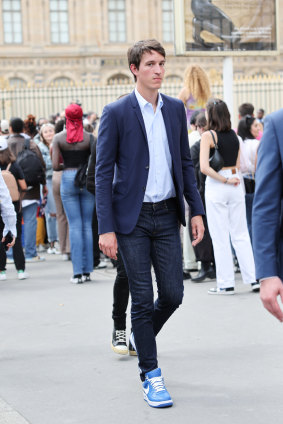 Keeping a listing brings discipline and access to the capital markets. LVMH is expected to have net cash next year, according to the Bloomberg consensus of analysts' estimates. But being able to tap shareholders would be useful should a big acquisition such as Chanel, which could be worth about 150 billion euros, become available.
But there are risks ahead for LVMH.
The first is succession. That's a little way off right now, seeing as LVMH lifted the age limit of its CEO last year, enabling Arnault, who is 73, to remain at the helm until he's 80. Eventually, however, he'll have to choose whether to appoint one of his children to the top role or split responsibilities among the five children.
If Arnault were to pick one of the younger sons, Alexandre, 30, who has a senior role at Tiffany, or Frederic, 28, who runs Swiss watchmaker Tag Heuer, he could emulate Prada and appoint a non-family member as caretaker CEO until they are ready to take over. LVMH also has a cadre of top executives, such as Burke, Beccari (if he does well at Louis Vuitton), and group managing director Antonio Belloni, who would be safe pairs of hands.
Whichever structure is chosen, the process must be handled carefully: splitting the CEO's responsibilities opens up the possibility of conflict between the siblings.
Given that LVMH is increasingly in a league of its own, another danger is complacency. The backdrop is also looking more challenging. Investors are betting on a return of revenge spending by Chinese consumers now that they can travel, but the next few months will be volatile. Meanwhile, the US luxury market is slowing.
And LVMH is in the fashion business after all. Not only is it a notoriously fickle industry, but the desire to always be at the cutting-edge can generate faux pas that alienate shoppers.
Such hazards look far off, but the board, which includes some French corporate heavyweights, must be vigilant in spotting issues and raising them with the family. Strengthening corporate governance with more non-family members wouldn't hurt either. Three years ago, Kering SA named former Credit Suisse Group CEO Tidjane Thiam and actress Emma Watson to its board, though there is a question mark over how much benefit this delivered as the Gucci and Balenciaga owner has endured a difficult period.
LVMH shareholders have so far enjoyed a remarkable ride. But as the luxury landscape darkens, they should be more than passive travellers — and put their Louis Vuitton monogrammed luggage to work.
Bloomberg
Source: Thanks smh.com